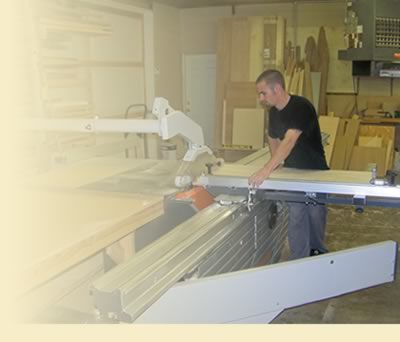 We went into business in 1987 after many years of working in construction. From the beginning, we were fortunate enough to work for clients that demanded high quality work. Along with working with individual homeowners, we have also been able to work with some of the best builders, architects, designers and decorators in the state.
We have always been known for the high quality work we produce. This is because we are a small family owned business that still believes in the "hands on" approach. We feel we have the best craftsman in the area involved from the actual building of the cabinets - to our "in house" finish that is applied - to the installation of the final products we supply. We only use the best materials from the hardwoods and plywoods to the hardware and the finishes. We also still use time honored joints such as mortise and tenon, etc.
The type of work we produce varies from kitchen and bath cabinets, entertainment centers, bars, wine cellars, pantry and closet cabinets, wainscoting, floor to ceiling wall panels (also know as "judges paneling"), columns, and some furniture – among other things. We also like to specialize in work other shops might shy away from such as curved and radius work, curved raised panel doors, soffits, bar fronts, etc.
In an effort to stay competitive in prices and also lead time, we also offer three different brands of stock cabinets. The brands we offer are Mouser, Decora, and Schrock (see links to their websites). These are three high quality brands used in some of the finest homes across America. With these three lines of stock cabinets along with our custom, we can compete in almost any price range. This includes competing with many of the big box stores. By offering these cabinet brands it also helps us to fill your needs when you have a short time frame in which to get the job done.
We also can do computer generated drawings of your cabinets. We can help you design your cabinets or will be happy to work from a design provided by you, your builder, architect or designer.
Our work is not just confined to our home area around Montgomery County. We have also worked for clients all across the state. Some of the areas we have worked in and around are Pinehurst, Southern Pines, Chapel Hill, Charlotte, Greensboro, Blowing Rock, Sunset Beach and Lake Lure.
Please feel free to call or come by our showroom. Our goal is to work with you or your representative from start to finish. We want to ensure you get a product that you will be proud of for years to come.